Introduction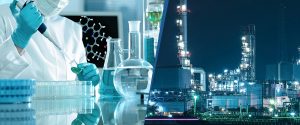 The Department was designed to build on current acclivities and to provide a nucleus for the University's rapidly expanding industrially oriented research training and consultancy in Chemical Engineering. The curriculum for the B.Sc. Chemical Engineering has evolved over a number of years and is designed to prepare the students for design, operation, and supervision of Chemical, Biochemical and Polymer Plants. The course is updated regularly to incorporate the outcomes of local and global research in the field of Chemical Engineering. Emphasis is given to the use of computers by students in problem solving and design of equipment and plant. The course curriculum is same as already being followed in Chemical Engineering Department, Main Campus.
B.Sc. chemical engineering programs in the department is designed to provide its graduates a solid educational foundation on which they can build successful and sustainable careers in chemical engineering, chemical technology or a related field.
The objectives are:
PEO-1: The graduate will apply the knowledge, principles, and skills in process industry, academia, and complementary fields to meet the stakeholder requirements.
PEO-2: The graduates will achieve professional success by practicing ethical behavior, social responsibility, and diversity, both as individuals and in team environments with effective communication.
PEO-3: The graduates will pursue innovative approaches and career growth through professional practice, graduate studies, and other training programs in engineering sciences and management.
Curriculum of BSc Chemical Engineering is designed to fulfill the needs of local industry and the guidelines of the National Curriculum Review Committees (NCRC) of Higher Education Commission (HEC) Pakistan. As per the guidelines of the NCRC, the courses are categorized into two domains: Engineering and Non-Engineering. Engineering domain is further categorized into foundation, breadth and depth courses whereas non-engineering domain includes natural sciences, management and social sciences related courses. course contents are designed to inculcate the cognitive, psychomotor, and affective domain skills among the students for the attainment of PLOs. The curriculum scheme is given below.
Course No. and Title
Credit Hours
Prerequisite Courses (if any)
Semester 1

ChE-101A

Industrial Stoichiometry – I

3 (3, 0)

—

CS-101 & CS-101L

Computing Fundamentals

3 (2, 1)

—

CY-142 & CY-142L

Physical and Analytical Chemistry

3 (2, 1)

—

HU-111L

Communication Skills

1 (0, 1)

—

MA-113

Calculus and Analytic Geometry

3 (3, 0)

—

ME-122L

Engineering Drawing

2 (0, 2)

—

Subtotal

15 (10, 5)

—

Semester 2

ChE-108

Fluid Flow-I

3 (3,0)

—

ChE-104

Health and Safety at Workplace

2 (2,0)

 

ChE-103A & ChE-103AL

Chemical Process Industries

3 (2, 1)

—

IS-101 or HU-101

Islamic and Pakistan Studies – I (Muslim students) or Ethics and Pakistan Studies – I (non- Muslim students)

3 (3, 0)

—

MA-118

Applied Mathematics and Statistics

3 (3, 0)

—

ME-100L

Workshop Practice

1 (0, 1)

—

PHY-113 & PHY-113L

Applied Physics

3 (2, 1)

—

Subtotal

18 (15, 3)

—

Semester 3

ChE-201A

Industrial Stoichiometry – II

3 (3, 0)

Industrial Stoichiometry – I

ChE-203A & ChE-203AL

Particle Technology

4 (3, 1)

—

ChE-204A & ChE-204AL

Chemical Engineering Thermodynamics – I

4 (3, 1)

—

CY-221 & CY-221L

Inorganic and Organic Chemistry

3 (2, 1)

—

HU-221

Technical Writing and Presentation Skills

3 (3, 0)

—

MA-233 L

Applied Mechanics

1 (0, 1)

—

Subtotal

18 (14, 4)

—

Semester 4

ChE-208 & ChE-208L

Fluid Flow-II

3 (2, 1)

Fluid Flow-I

ChE-209 & ChE-209L

Process Heat Transfer

4 (3, 1)

—

ChE-210 & ChE-210L

Separation processes-I

4 (3,1)

—

EE-140 & EE-140L

Electrical Technology

3 (2, 1)

—

IS-201 or HU-201

Islamic and Pakistan Studies – II (Muslim students) or Ethics and Pakistan Studies – II (non- Muslim students)

3 (3, 0)

—

Subtotal

17 (13, 4)

—

Semester 5

ChE-301A& ChE-301AL

Chemical Reaction Engineering

4 (3, 1)

—

ChE-312

Engineering Materials

2 (2, 0)

—

ChE-303A

Unit Processes

3 (2, 1)

—

ChE-304A

Chemical Engineering Thermodynamics – II

3 (3, 0)

Chemical Engineering Thermodynamics – I

MA-240 & MA-240L

Numerical Analysis

3 (2, 1)

—

MGT-413

Entrepreneurship

3 (3,0)

—

Subtotal

18 (15, 3)

—

Semester 6

ChE-311

Chemical Process Design & Economics

3 (3,0)

—

ChE-302A

Chemical Engineering Mathematics

2 (2, 0)

—

ChE-310 & ChE-310L

Separation Processes-II

3 (2, 1)

—

ChE-307A

Transport Phenomena

3 (3, 0)

—

ChE-308A & ChE-308AL

Energy Engineering

4 (3, 1)

—

ChE-313 L

Process Modeling and Simulation

2 (0,2)

—

ChE-314

Community/Research Project-I

1 (0,1)

—

Subtotal

18 (13, 5)

—

Semester 7

ChE-401A

Chemical Reactor Design

2 (2, 0)

Chemical Reaction Engineering

ChE-409

Chemical Process Equipment Design and Rating

3 (3, 0)

—

ChE-409 to ChE-418

Elective-I

2 (2, 0)

—

ChE-404A & ChE-404AL

Instrumentation and Control

4 (3, 1)

—

ChE-408A

Engineering Management

2 (2, 0)

—

ChE-411

Final Year Project – I

3 (0, 3)

Final year standing

ChE-315

Community/Research Project-II

1 (0,1)

—

Subtotal

17 (12, 5)

—

Semester 8

ChE-406A & ChE-406AL

Environmental Engineering

4 (3, 1)

—

ChE-409 to ChE-418

Elective-II

2 (2,0)

—

ChE-419 to ChE-425

Elective-III

3 (3, 0)

—

ChE-419 to ChE-425

Elective-IV

3 (3, 0)

—

ChE-412

Final Year Project – II

3 (0, 3)

Final Year Project – I

Subtotal

15 (11, 4)

—

Grand Total

136 (103, 33)
Course No. and Title
Credit Hours
Prerequisite Courses (if any)

ChE-415

Industrial Psychology and Ethics

2 (2,0)

 

ChE-416

Polymer Engineering

2 (2,0)

 

ChE-419

Petroleum Refinery

2 (2,0)

 

ChE-420

Food Engineering

2 (2,0)

 

ChE-413

Membrane Technology

2 (2,0)

 

ChE-414

Computational Fluid Dynamics

2 (2,0)

 

ChE-425A

Computer Aided Design

2 (2,0)

 

ChE-426A

Process Analysis and Optimization

2 (2,0)

 

ChE-417

Chemical Safety and Security

2 (2,0)

 

ChE-418

Process Equipment Malfunction

2 (2,0)

 

ChE-405

Maintenance Engineering

3 (3, 0)

 

ChE-421

Gas Engineering

3 (3, 0)

Final year standing

ChE-422

Biochemical Engineering

3 (3, 0)

Final year standing

ChE-427

Biomass and Biofuels

3 (3,0)

 

ChE-428

Industrial Safety and Risk Management

3 (3,0)

 

ChE-429

Clean Coal Technologies

3 (3,0)

 

ChE-430

Material Characterization Techniques

3 (3,0)